CIMpro, Option File Generator, Debugger
Austin N.C.'s powerful set of postprocessing tools and CAD/CAM interfaces are accessed via CIMPro, a graphical user interface (GUI) application. One of the tools accessed from CIMpro is the Option File Generator which allows the user to view and/or edit an "option file". In addition, we provide the G-Post Debugger application which helps you debug your postprocessor. Each of these three GUI applications are described below.
CIMpro Interface
CIMpro provides access to the APT System, G-Post, and CAD/CAM modules linking design and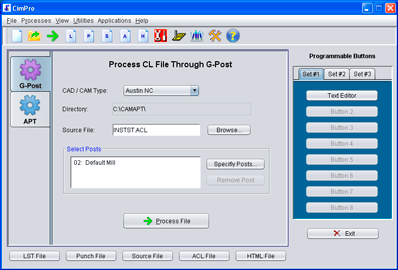 manufacturing. The CIMpro graphical user interface (GUI), recently revised in version 6.4, is easy to use; thus, making the user more productive. CIMpro also has links to other applications and a set of 24 programmable buttons. These buttons allow the user to easily program them to launch custom applications, third party applications, or batch files.
Below are some additional screen shots of CIMpro. Click on the thumbnail to enlarge the image.
Option File Generator
The Option File Generator GUI allows the user to easily configure an option file and view or edit its options. Option files are used to configure a postprocessor to meet the user's specifications.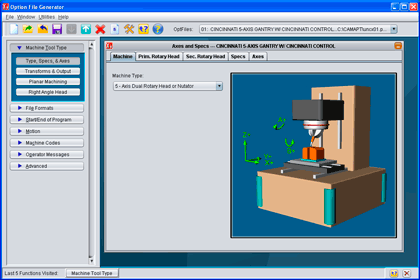 The option file is read by the G-Post at execution time and pre-configures the postprocessor's internal variable table prior to reading the tool path or CL file. The Option File Generator GUI divides the option file information into categories and sub-categories for ease of navigation. Modifications may be made on a graphical panel by selecting the desired menu / sub-menu / tab. In addition, pre-configured postprocessors are also supplied with the G-Post / Option File Generator.
Below are some additional screen shots of the Option File Generator. Click on the thumbnail to enlarge the image.
G-Post Debugger
The G-Post Debugger (also called the Interactive Debugger) is a GUI based application which allows a user to debug their G-Post. It can only be launched from the CIMpro interface. To launch the Debugger from CIMpro, follow the steps below:
In CIMpro, make sure the

G-Post

tab is selected and the necessary fields are filled in (e.g., a source file has been specified and a postprocessor has been selected)
Check the

Processes->Debug G-Post

menu item check box
Click the

Process File

button - this launches the Debugger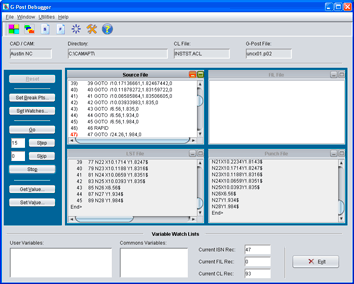 The Debugger contains four internal windows showing the input files and output files. These include: Source file, FIL file, LST file, and Punch file. It allows the user to set "break points" and/or "watch variables" and step through the process.